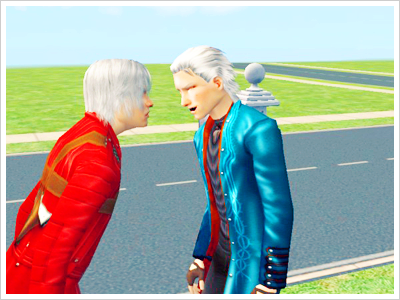 It starts off pretty normally. Vergil is being an ass, and making Dante puff up and wibble like the giant fucking baby he is.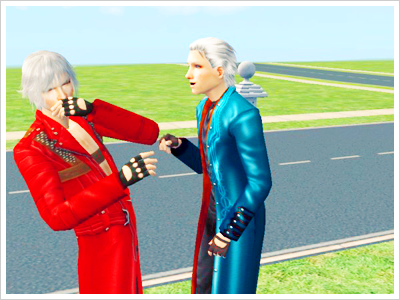 ...Aaaaaand, he wibbles some more.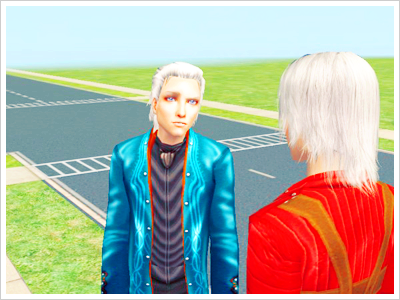 And gets so derailed in his rant at Vergil, Vergil just tunes his whiny little ass out. Can you blame him?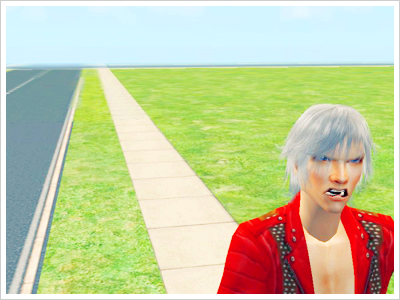 Please the Almighty Dante this does not, young asshopper.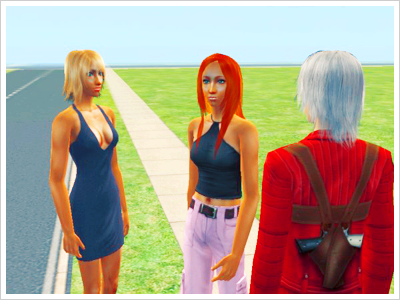 But things start to look up, when some people drop by. Yeah, their boobs are obviously fake, and they have 'butter faces' (You know, "Her body's fine...BUT HER FACE".), but from behind is ALWAYS an option.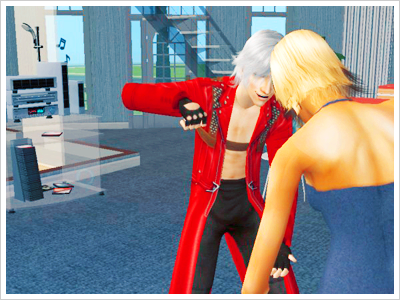 Dante starts things off lightly, checking out the blonde's boobs with NO sense of discretion whatsoever.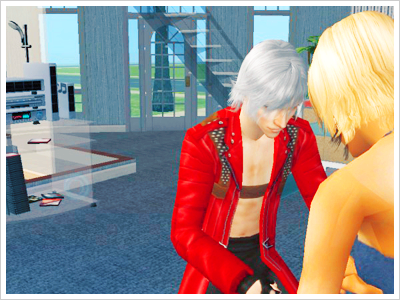 "Uh, babe? You're not supposed to have one of those."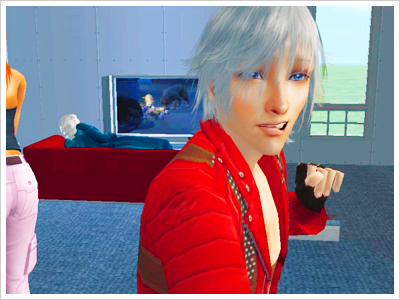 It's a TRAP!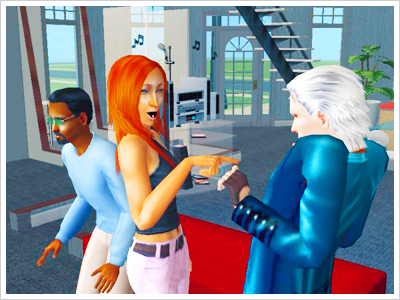 Meanwhile...

Yes, Vergil. That silicone-enhanced, bird-beaked gutterwhore just TOUCHED YOU.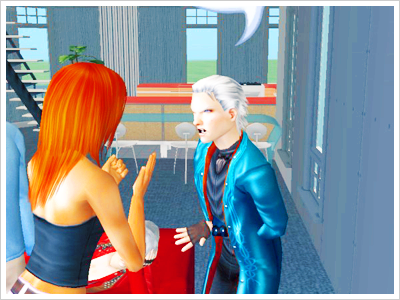 Of course, I don't think you should have told her about that obsessive thing you have concerning Dante.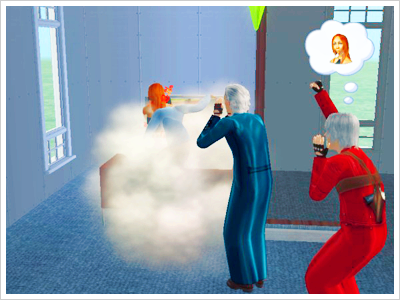 But it's all good. She jumps the other, random guy that had shown up. The Sparda boys, being such chivalric creatures, cheer from the sidelines.
KISSY-FACE. But it's cute, so we'll let this one slide. For now.
While Vergil wasn't looking, SOMEONE got his grubby little paws on the camera.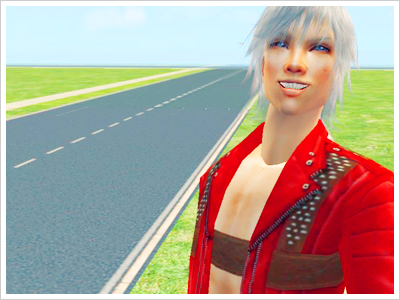 ...Uh huh.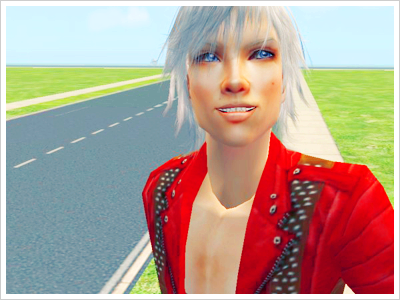 Someone take that damn thing away from his retarded ass?
OH HAY. I'M JUST POOPIN IN UR YARDS.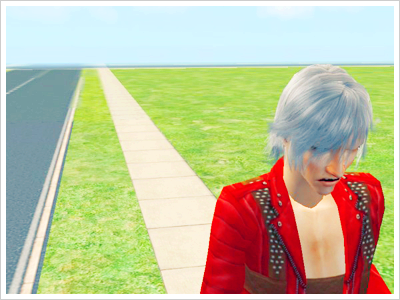 "Oh, dude, no, put that AWAY. NO, I don't want to see that, I HAVE ONE JUST LIKE IT THANKS."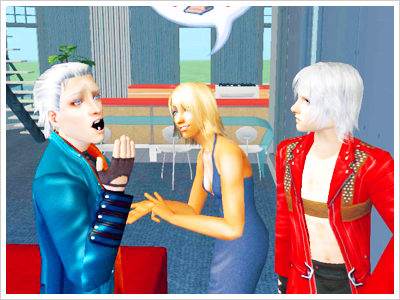 "Oh my God."
"I told you it was a motherfucking trap."
Vergil likes to yell at the tv. A lot.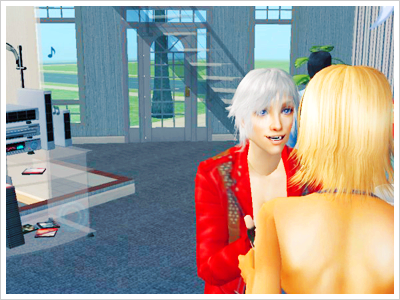 "Yeah, that's a real nice offer, but I'm gonna go shove my face on the stovetop now."
Don't be alarmed, citizens! Yes, it is Dante taking out the trash, but we assure you it's nothing to worry about.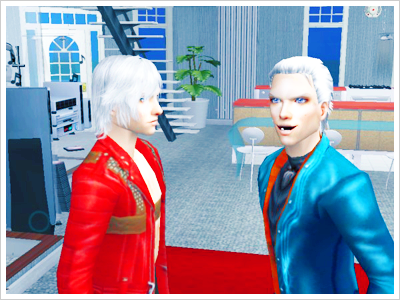 I don't think anything has every captured Vergil's psychosis so perfectly.
Vergil does this at the tv a lot, too. :[
They hug a lot, on top of everything else.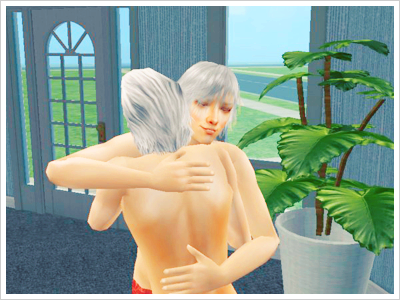 I mean, a LOT. By this point, I thought they should just snog and get it the fuck over with, already.
Oops.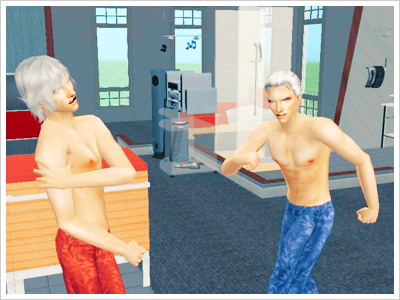 But things go back to normal, with Vergil knocking the shit out of Dante for no reason.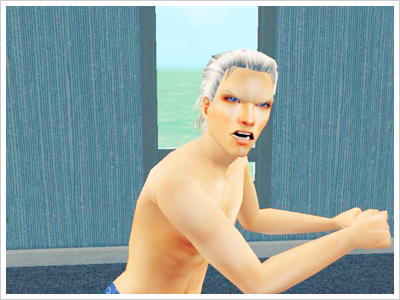 Dancing, clearly, is serious business, as far as Vergil's concerned. Much like scrubbing the shower and making Dante's rat nest of a bed.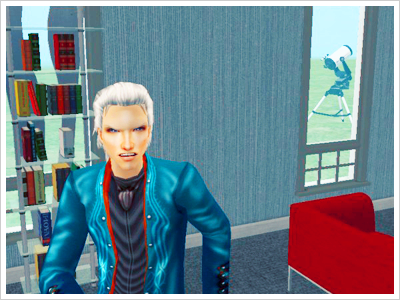 We know, Vergil. We know.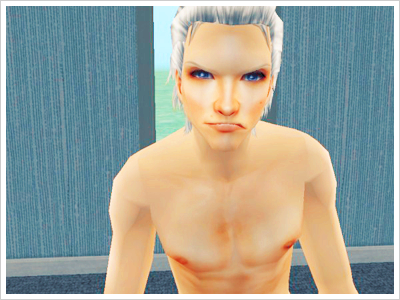 "NO SIR, I DON'T LIKE IT."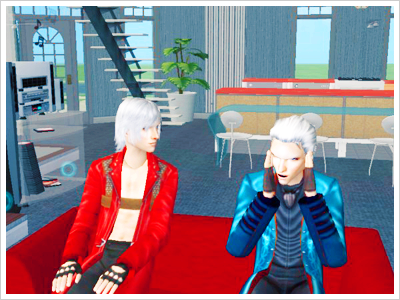 "OH GOD THE VOICES ARE STARTING AGAIN :E"
"Ayeah, I'm gonna go...Over there now."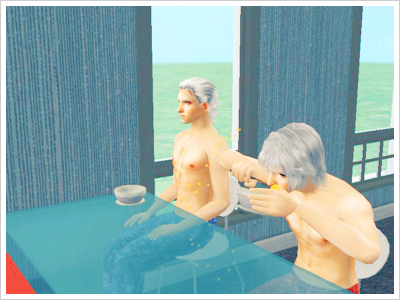 This is so trufax, it's hilarious. It figures Vergil would be done first, and Dante has the table manners of a retarded, one-armed baboon.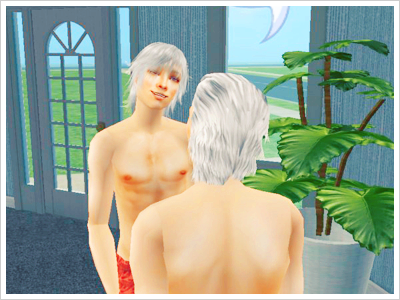 "Thank you for sharing that glimpse into the land of crazy that you call reality, Verg."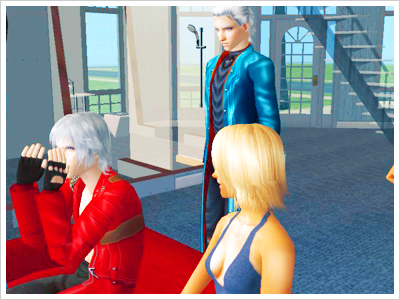 Every move you make and every vow you break / Every smile you fake, every claim you stake / I'll be watchin' you
"Are ya havin' another seizure, Verg? Do I need to go- Let me get the spatula and hold down your tongue. Remember what happened that time you swallowed it."
I just love this cap. Moving right along...
He might be an evil little bugger, but Dante sure as hell is a cutie.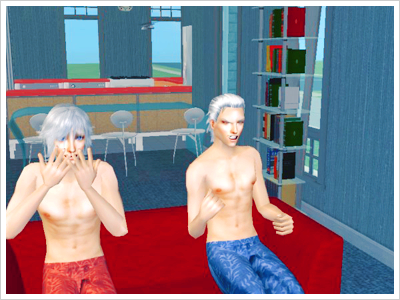 "OH MY GOD THAT DUDE JUST WENT SPLAT ON THE PAVEMENT ON THE NEWS OH MY GOD"
"YES. Papa NEEDS a brand new zombie."
"...D: *scoots away*"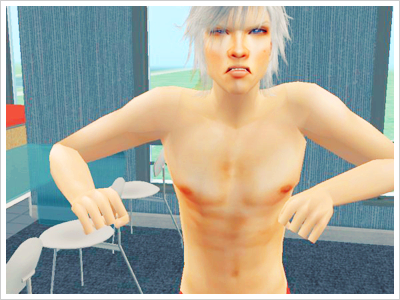 DANTE MAD. DANTE SMASH.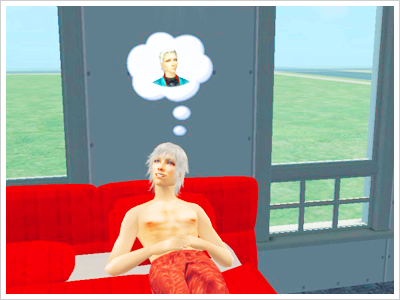 He's really fantasizing about smashing his face in.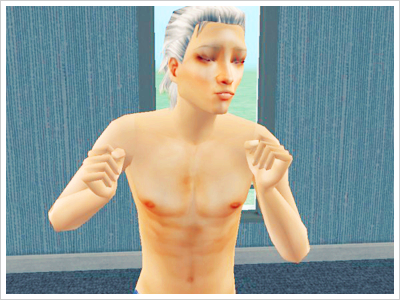 KISSY-FACE
"Are you fucking shitting me? You tell that fat bastard Enzo I want my goddamn money. PRONTO, COMPREDE? Yeah, motherfucker, that's what I thought."
"Oh, Dante, stop wibbling."
"What the fu- I AM NOT GODDAMN WIBBLING."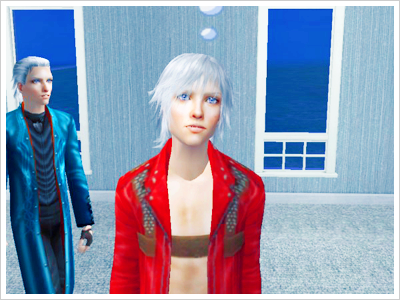 "Oh, God, why can't I get the fuck away from him, WHY. ...Is he looking at my ass? He better not be looking at my ass."
sdjfasld Cute.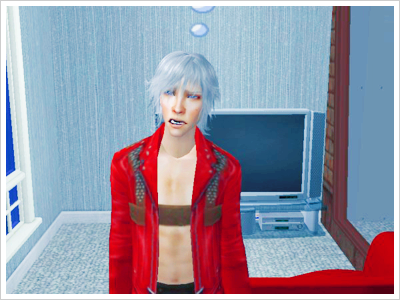 I'd make that face, too, if I had to live with Vergil's crazy ass.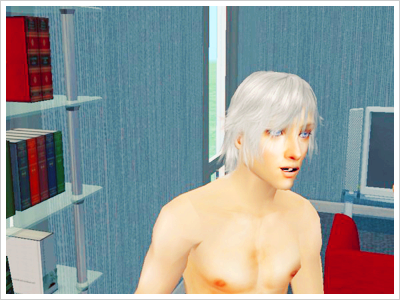 Looks like Dante got into Vergil's stash~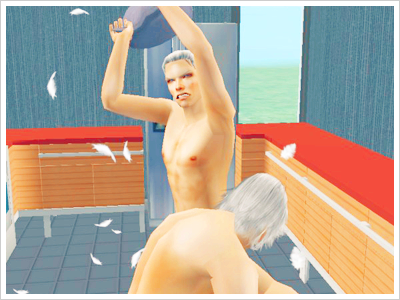 Pillow fights are also, apparently, serious business.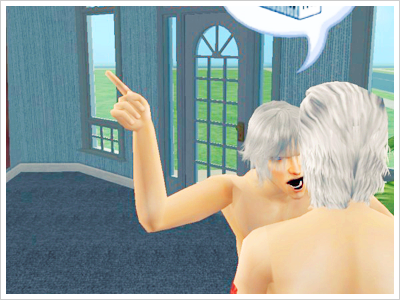 "If you don't CUT THAT SHIT OUT, I will SKULLFUCK YOU, and PUT IT ON THE GODDAMN WALL."
"Kinky."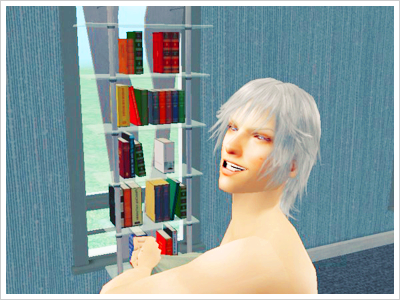 "You gone get RAPED, boy. :)~"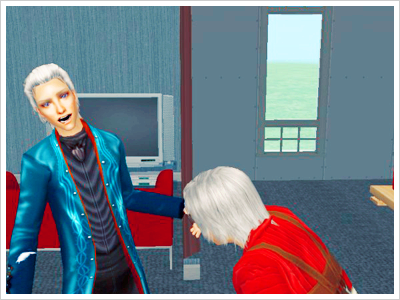 Dante totally went for the dick grab. He did. You know it. I know it. Vergil probably liked it. >>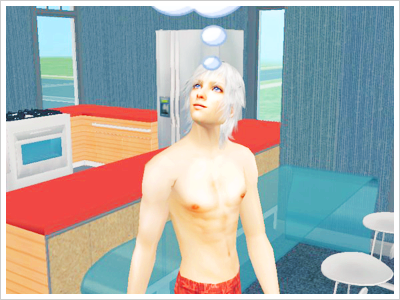 "OH HAY WHEN DID WE GET A CEILING."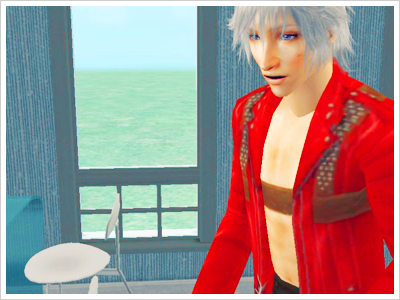 I'm beginning to think Vergil leaves his stash out where Dante can find it so he'll be compliant. :x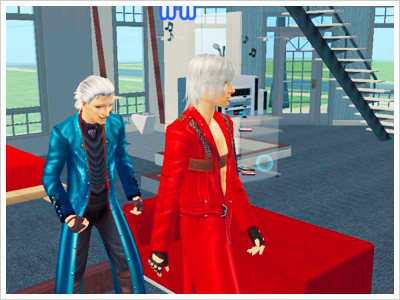 That is so an ass-check out. And if you say different, I will deny you.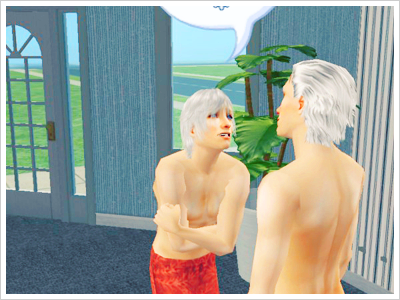 I leave you with Dante!puppy eyes. :)~